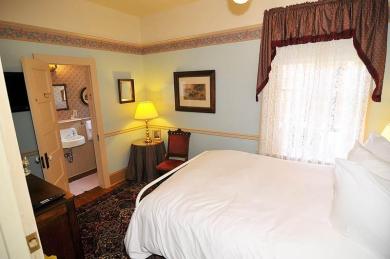 Room No. 17
Standard Guest Room with Full Bed, Private Bath with Shower Stall
First Floor Guest Rooms
This small but delightful room makes you smile when you enter. The old iron bed has been refurbished and dressed in 100% white cotton sheeting with overstuffed feather topper, down comforter with lots of pillows. A side window overlooks the second floor outdoor porches furnished with green wooden rocking chairs. The lace curtains give away just enough view of the porch to make you feel right at home. Velvet straight back chairs grace the room and a corner round tea table holds an old painted lamp and picture frame. A mahogany dresser with a mirror and side shelves complete the charming setting. A 26-inch TV is tucked away in a corner wall mount opposite the bed.
The small, but functional bathroom has a standard size shower stall, a small old fashioned hand bowl with an antique wooden mirror and commode. Fluffy white cotton terry toweling is provided for the bathroom. A small window positioned high on the wall provides natural lighting and charm to this area.