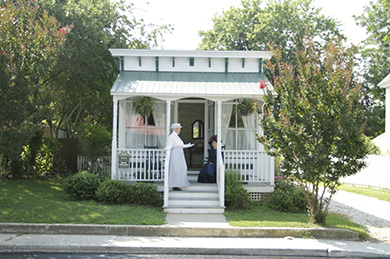 The Gardner's Cottage with King Bed and Private Bath with Tub & Shower
Gardner's Cottage
Located on Jefferson Street behind the hotel, the Gardner's Cottage is a private little "home away from home". It's magical influence creates a place without a sense of time. The white and airy atmosphere of the entire cottage is one of charm and whimsy. A green velvet Victorian sofa and arm chair set beneath delicate watercolor prints of Monet. A table and mirror are center in the living room while a desk and comfortable chair balance the opposite side of the space. Ferns and plants soften the white Beiderboard walls. Large windows with white cotton curtain panels tied with green ribbon give an outdoor feel to the cottage. 
The King size iron bed is a replica of the turn-of-the century design crafted by a century company. With 100% white cotton sheeting, a feather mattress topper, a down comforter and loads of pillows and decorator pillows, the bed offers immediate respite. There is a vintage dresser with bric-a-brac shelving. The size of the bedroom space permits the use of a vintage wicker bench at the front of the bed. A 26-inch flat screen TV and DVD player provide entertainment. A yellow brocade arm chair adds class and comfort for relaxing and reading by bedside. Matching lamps flank the King bed and matching prints decorate the white walls behind the bed. The cottage also has a small refrigerator.
A full-size bathroom with tub and shower, a pedestal vanity and commode are all modern fixtures. A decorative table compliments the Beiderboard trim and yellow wallpaper. Fluffy white terry toweling and Spa robes complete the guest bathing experience. A full front porch with rockers and a small side porch with private parking are only part of the cottage amenities.