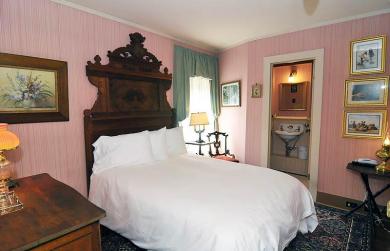 Room No. 21
Standard Guest Room with Full Bed, Private Bath with Shower Stall
Second Floor Guest Rooms
This small bedroom is a very private setting at the end of the South Hall on the top floor of the Hotel. The impressive mahogany wooden headboard dominates the room and is dressed in 100% white cotton sheeting with a feather mattress topper, a down comforter and lots of pillows. A vintage dresser and mirror compliment the guest room as you enter. Several antique lighting fixtures provide ambiance. A 26-inch flat screen TV is wall mounted opposite the bed. A three-legged table fills one corner while a straight back burgundy velvet chair fills another corner next to the bed table and in front of a large side window. The walls are filled with lovely framed paintings that reflect turn-of-the-century life.
A small functional bathroom offers a full size shower stall, a small hand bowl and commode with Beiderboard trim and fluffy white cotton toweling that adds charm to the bathroom area.